Anita Chauhan
The end of life space is one that has been shrouded in mystery, mainly since we simply do not talk about it. That's why we at Eirene have started the "Intimate Conversations on Death" series. In this series, we spend time chatting with people in the end of life space, to learn about new perspectives and offer new ways of navigating and discussing death.
In this latest edition, we chat with Nurse Entrepreneur, Heather Taylor, the CEO of After A Loss, an organization that provides practical grief assistance to individuals and their families. Heather is a registered nurse by trade, who resides in Sarnia, Ontario.
Join us as we chat with Heather about her work in the space, what inspired her to start After a Loss and how she made the "Grieving Pin" such a success.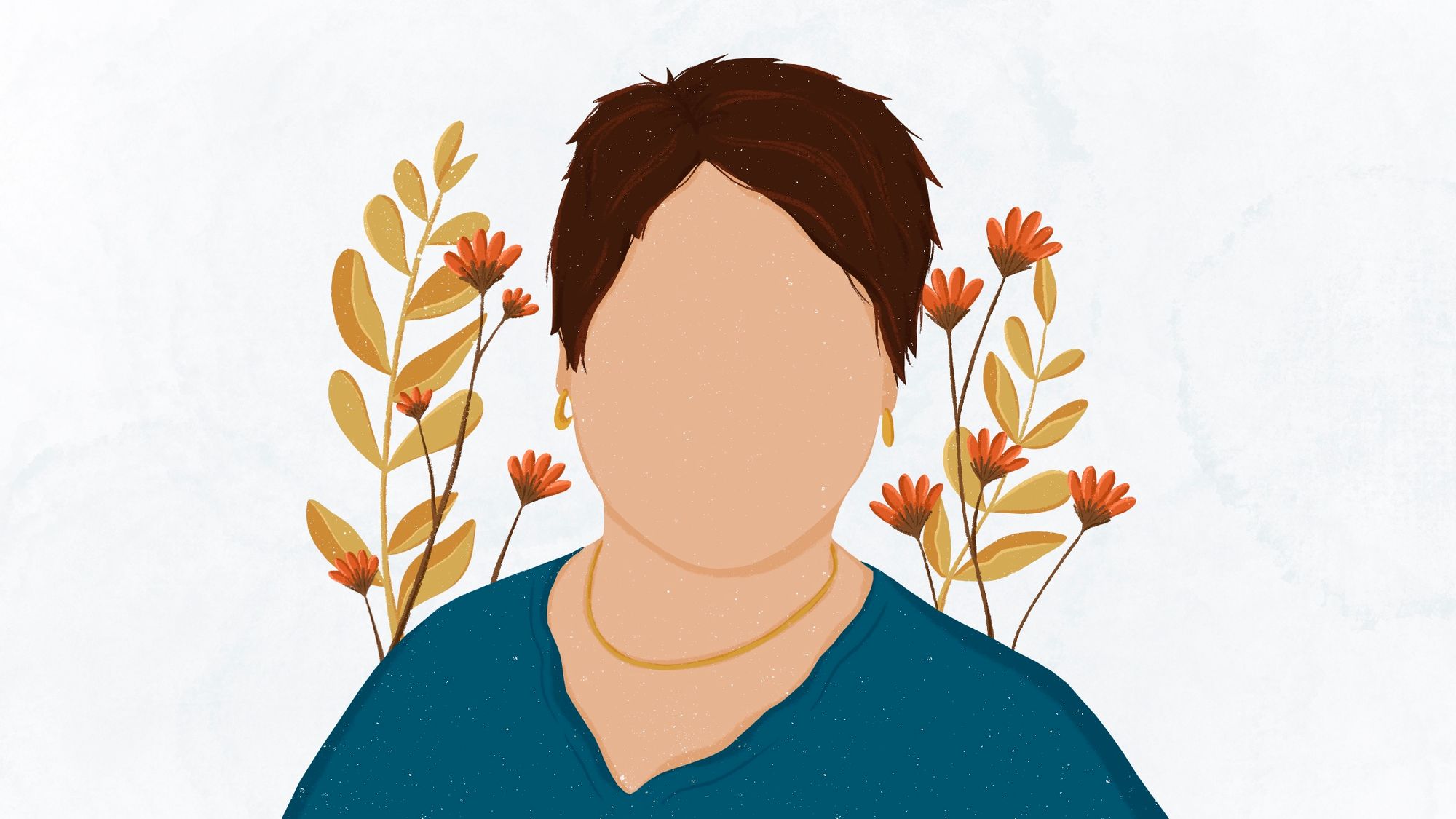 What led you to transition from being a nurse to entrepreneurship and launching your own business, After A Loss?

I am still a Nurse working full time and do my business After A Loss on the side.

Can you share with us a little of what you learned about the end of life and death space during your time as a nurse?

Having been a Hospice/ Palliative care nurse for much of my career I realized how many people are not comfortable with death, dying and generally talking about End of Life. There is a huge need for education not only to the public at large but also to the healthcare providers.
Many Physicians/ Providers are not comfortable talking with their patients about end of life or death. I used to do the End of Life discussions with our clients at our Community Health Centre who had a palliative diagnosis e.g. COPD, CHF, Kidney issues, Diabetes, Cancer to try to get them thinking about Advanced care planning and Substitute decision makers if the time came when they could no longer make their own decisions.

Healthcare professionals take on a lot of responsibility during the end of life process. We'd love to hear what your thoughts are on how healthcare professionals are taught to handle and speak about death? Do you think it's effective? Would you change anything?

As previously mentioned I believe there needs to be ongoing education for all healthcare providers but especially for Doctors and Nurse Practitioners as they are educated to treat, fix or cure the problem. As we know there are many diseases that cannot be cured or fixed so what are the other options available to the patients they are caring for.

I know when I went to nursing school we were not taught how to talk to a family about the fact their loved one may die.

I think people need to realize that we plan for every other life events (e.g. baby showers, Christmas, Birthdays). Despite knowing we are all eventually going to die, many times there has been nothing done, not a discussion, a thought, a pre-paid funeral or a plan of any sort put into place. This leaves the remaining loved ones guessing as to what you may of wanted.

I'm very comfortable talking with everyone regarding death, as it will happen to each and every one of us at one time or another. It doesn't need to be a sad topic but just to let those around you know your wants and wishes is very important.

I would like to see all Primary Care providers upon admission to their practice ask the question: Do they have their Advanced Care Plan and Substitute Decision Maker in place?

If not would they like to talk to someone about getting this done.

Now, we know that you've spent some time working as a funeral concierge in the past. Can you give us an idea of what led her you to that space and what are your views on the current state of the funeral industry?


Many people do not even have a will, therefore causing issues with closing out estates/ accounts and such when the person has died.

After A Loss became after my Mom died suddenly and unexpectedly of a Pulmonary Embolism and we were not prepared for what that would look like. This included all the tasks that the family are required to do, all the errands that need to be run, picking up and arranging transportation and hotels for out of town guests, food to be served at the house when people stopped in, etc.

All of these were things that I realized I would have paid someone to help me with. Having someone manage these tasks would then free up space for me to just sit and visit with family and friends at a time when I needed to be present. I missed so many stories that were shared about my mom because I was running around doing admin tasks and errands.  

As a society, we already pay for housekeepers, and people to prepare meals... so why not have a service that can help at a time when you are overwhelmed? During a time when you are grieving and maybe want to just sit in the corner and cry, it'd be nice to have support and not worry about the finer details.

I think we as a society do not give ourselves permission to grieve properly. You have a baby in Ontario and you can take 12-18 months Maternity/ Paternity leave from your job, but when you lose the most important person in your life, you are barely given time to grieve.
Sometimes you haven't even had the funeral and you are expected to return to work and function just as you did prior to experiencing this tragic loss.
We also want to have Celebrations of Life and make this a party and a happy event.
I believe in the months and years to come we will see many people who were unable to properly say goodbye suffering from a complicated grief that we have never experienced before.

Let's take a moment and chat about the grieving pin - what's it for and why do you think it's important? What brought you to creating it?
The GRIEVING Pin was designed by myself after I spoke to a Mom in a Suicide Loss Support Group that I was co facilitating. She said, "I just wish there was something I could wear on the days when the words are too painful to let others know whats going on, without me telling my story."

I thought about it and spoke to her again and came up with the idea of the GRIEVING Pin. It can be worn not only at the funeral, but on days when you are having a difficult time. It is a visible reminder to those around you that you're not at your best and to please be patient, understanding and supportive as you are doing the best you can.
It's a symbol to let others know so they can be aware that grieving isn't just a day, a week, a month or a year. It is a symbolic reminder that the pain of loss is unique to each one of us. This pin hopefully brings a sense of comfort, support and awareness during this time.

Can you share how your education and range of certificates, licenses and education have shaped you to be an advocate for end-of-life?

I have been a Registered Nurse for 27 years and have worked on Oncology/ Palliative/Hospice care for much of my career. I have also worked many years as a Mental Health and Addictions nurse which also has a lot of stigma attached to it.

I have taken many courses through my years of work such as Fundamentals of Palliative Care, CAPCE(Comprehensive Advanced Palliative Care Education) LEAP( Learning Essential Approaches to Palliative Care) as well I as attended King's College at University of Western nation and completed my Certification in Grief, Loss and Bereavement in the Thanatology Program. I have attended many workshops and Hospice Palliative Care Ontario Conferences over the years.

What tips or advice would you give someone who is entering in this space?

I love to learn anything new that I can share with a co-worker or family that may help someone who is at their End of Life have a better experience.

I would love to share this is not a job but a passion for me. It is a privilege to journey with patients and families at end of life and that sometimes you may do nothing but hold the space.
I also learned a very important word when I first started at Hospice- WAIT( Why Am I Talking) meaning that we don't need to fill the silence with words. we need to just hold the space and let there be silence as awkward as it may be.

---
About After a Loss:

After a Loss provides practical grief assistance to grieving individuals and their families in a compassionate and dynamic way. They offer support for any type of death or loss, which includes event planning, personal concierge services, catering, education, and more.

After a Loss provides:

Personal concierge services: create a structured plan in a time of grief, complete to-do lists, home-care services, cleaning services, travel arrangements, event planning, and so much more.

Food and catering concierge services: menu planning, event catering, arranging food service in the days before or days after a funeral/loss, pick up meals or food from favourite restaurants.

Bereavement planning and grief support: navigation through confusing estate documentation and paperwork, insurance notifications, help plan celebrations of life, offer compassionate emotional support, and assistance with pet bereavement.

After A Loss' services are designed to be flexible and customizable, as every individual's needs are unique in a time of grief. We can provide as much, or as little, as your situation demands.
Interested in learning more? Connect with Heather and After a Loss here.