One vital element of a funeral service that you will need to plan is an order of service. It is a program of events for a funeral service or ceremony.

If there is more than one event, you can print multiple order of service booklets, one for each event, or combine them in one booklet. Guidance on how to write and publish an order of service is outlined below.
What is a funeral order of service?
A funeral order of service is a booklet or pamphlet outlining the events of the funeral service and the structure and timeline in which they will be held. It can include poems, readings, tributes, photographs, and more. It also lets guests know what to expect during the funeral service, including what sequence of events are expected and the content of each component. An order of service also shares details that allow the guests to participate or follow along (e.g., lyrics to a song that will be sung, or a passage that will be read). It also gives guests a memento to take with them after a ceremony, which can be a great way to help remember the deceased person.
Who writes a funeral order of service?
The first task in creating an order of service is to decide who will write and plan it. In most cases, it is written by the person organizing the funeral. However, this can vary depending on the type of funeral. In some cases, a funeral home will produce it with guidance from the family.
If funeral services are held at a funeral home, the events and schedule will depend on what the funeral home offers and what the family chooses from those options.
Once plans have been finalized, funeral homes will provide families with a timeline of events. Some may offer to prepare an order of service and will either include it in the funeral package or offer it for an additional fee. Sometimes a template can be used to create one (see these free order of service templates from Canva.com).

Families can also choose to write and create an order of service booklet on their own as long as it follows the timeline outlined by the funeral home or church.
Order of service for a church service
If a funeral is held at a church, there are often specific protocols that must be followed for a religious service. Therefore, the structure and content of events will need to follow this. The church minister or clergy members will advise families on the schedule. Families can choose to have the church staff write the order or service (if applicable) with input or write and print it on their own.
If the funeral is planned at an informal location (e.g., banquet hall, community hall, etc.), the responsibility for writing the order of service will likely fall on the family. There is typically a lot of flexibility at a rented venue, but check to ensure the venue can accommodate your needs beforehand (e.g., microphones for speeches, lecturn, etc.).
Whether you're arranging for yourself or someone else, your peace of mind is our priority.
How to write a funeral order of service
Once the events have been determined, and the writer has been selected, it is time to make the order of service booklet. The contents can vary greatly, so here are a few general things that should be included:
Cover
Schedule and outline of funeral service or event
Calendar of additional events, like a reception or repast that follows or graveside service (as needed)
Pictures or memories (optional)
Back page

Cover
The  order of service cover can be customized to your liking and can be as formal or informal as you choose. However, common items to include are as follows:
Full name of the deceased person. (You can also include a nickname).
Picture of the deceased person.
Their date of birth.
Their date of death.
Date, time, and location of the service.
Short message, quote, or epitaph (optional but commonplace).
The type of photograph used is up to the discretion of the family. It can be a recent picture or a photo that shows the deceased person in their prime. It can also be a funny or less formal picture if you would like. For example, if the deceased person was a jokester, using less-serious photographs may be appropriate. The goal is to choose a photo that represents the deceased person best and showcases who they were. Also, be sure to use a high-resolution photo so that it is not blurry when printing.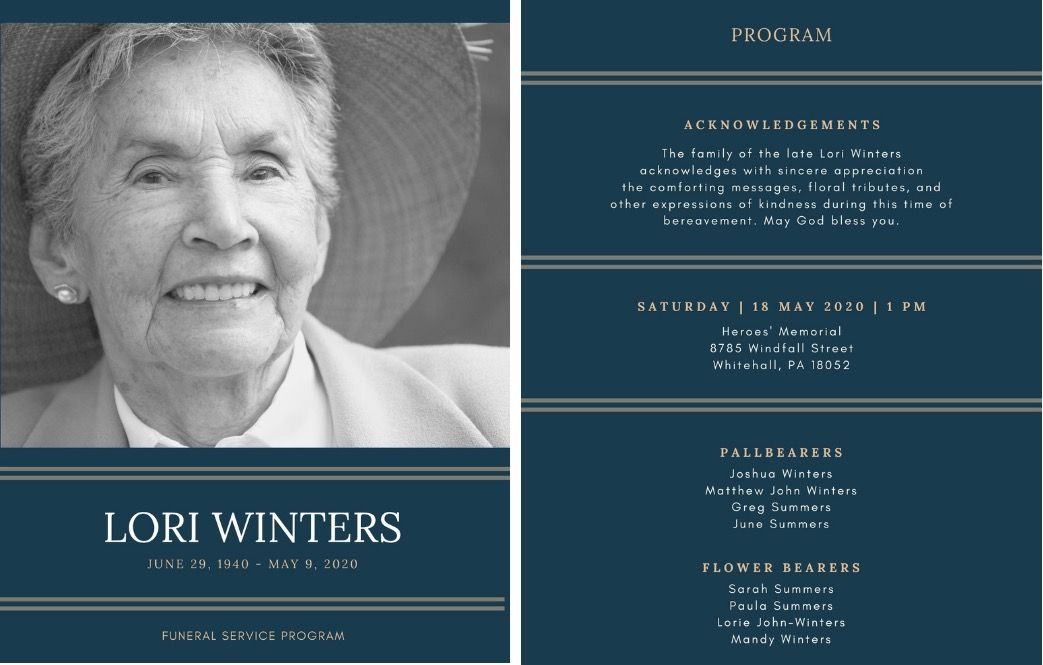 Schedule and outline of events
The schedule and outline of events will often make up the bulk of the booklet. Therefore, it is usually a few pages long. However, it can be shorter or longer depending on the ceremony of events. The important things to include here are the type of event, time, location, and expectations of the attendees (if applicable).
The timeline need not be precise, but listing proceedings in sequence helps give guests a better idea of how the funeral service will run. In the event of delays, the funeral director or person conducting the service will try to update times accordingly, referencing the order of service as a guide.
The events will vary for each funeral, but common ones include:
Introductions/Welcoming. This can include opening music while attendees get seated, a welcoming speech from the person conducting the service, a short speech outlining events, etc.
Musical selections, hymns, verses. This can be religious or secular music. If guests are encouraged to sing along, the lyrics or words can be included in the order of service booklet.
Prayers or readings. These will have a specific timeframe with religious ceremonies, but it is common to have them at the beginning and end of service for both religious and non-religious services.
Eulogy. This is a speech spoken at a funeral that pays tribute to the deceased person and their life. The person giving the eulogy is usually planned ahead of time. (Learn more about writing a eulogy here: How to Write a Eulogy).
Personal or informal tributes. This is a time when guests will have the opportunity to share personal memories or experiences with the deceased. The individual(s) sharing can be decided ahead of time or open to everyone with an open mic-style event.
Moment of silence. This is when guests are expected to be silent while they remember the deceased person.
Viewing the deceased. This can be on the day of burial or interment. However, it can also happen at a visitation, viewing, or wake.
Funeral procession. A funeral procession is a motorcade of cars - or occasionally mourners on foot - that follows a hearse containing the deceased's body to their final resting place.
Committal or graveside service. This is a service held at a cemetery or crematorium. This often includes prayers, flower placement, interment of body, etc.
Thanks and acknowledgements. This is a time when the deceased person's family will thank everyone for their help, consideration, and support in remembering and honouring the deceased.
Closing music. This can be religious or secular music, and lyrics can be included in the order of service booklet.
Post-funeral activities: Reception or repast.
Pictures and memories
This part of the booklet is optional. However, since the order of service is often something the attendees will keep after the funeral, it is an excellent idea to include images of the deceased person, including photos of family memories and related material that memorializes them. Include as many or as few as you'd like. The photos can show memorable moments in the deceased person's life with family and friends, song lyrics, poems, and more. If you have trouble choosing, it is a good idea to include milestones (e.g., wedding) and achievements (e.g., retirement). However, keep in mind that additional pages will raise the printing cost.
Back page
The final page is often reserved for another picture, thank yous, and last words. The picture at the back can be different or the same as the one at the front. It may be an excellent idea to choose an image at a different stage of life. For example, if you chose a recent picture for the front, you can choose a younger picture for the back.
This is also a place to thank family and friends for their support, love, and comfort during this time. You may also choose to thank the funeral home, clergy members, cemetery staff, etc., for their help in planning and participating in the services.
Finally, this will also be the place to mention final notes or information. This can include details and locations of additional services (e.g., repass or memorial), any charities or organizations for donations, links to memorial pages or websites, and more.
Have a question? Need more information?
You can email our team of experts at Eirene Cremations using support@eirene.ca. To make funeral arrangements for a loved one or to pre-plan you own, click here.